Scarface
Make way for the bad guy.
A review by Mike Shea Movie Rating: ( * * * * * ) DVD Rating: ( * * * * · )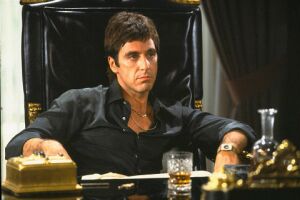 Scarface is one of the great movies of our time. It tells the story of the goals, the eventual success, and the downward spiral of American capitalism. Our anti-hero, Tony Montana, is one of the great all time movie characters. His quotes are found all over the place and his attitude has captured by millions. At the time the movie almost wasn't made, was almost given an X rating, had lousy box office numbers, and got terrible reviews, but now we see through the violence and language and see a deep and rich look at the rise and fall of one man's empire.
Godfather 1 and 2 and again as the polar opposite Tony Montana. "All I have in this world are my balls and my word and I don't break them for no one." His attitude doesn't change, whether he is blowing away a Colombian drug dealer in front of Miami body builders and senior citizens or standing on his massive stairwell shooting the hit squad that is his eventual downfall. Tony Montana is an icon of fury, an icon of unbridled ambition. He starts with nothing and murders his way to the top. He stands in the house of his former boss, the boss lying dead on the floor of his office and the bosses wife coming down the glass elevator to end up in Montana's bed. He looks into the sky and sees the Goodyear blimp float by with the message "The World is Yours". Tony Montana agrees.
While most movies nowadays try to hide their violence, Scarface makes no apologies for it. It speaks through its violence. Tony Montana's world is a world filled with blood. He sits on a mountain of skulls. The movie represents that in the raw form it deserves. Few movies ever make it off of the drawing board with this level of violence. Like the Godfather, Scarface was almost not made. Seeing such a wonderful movie that almost didn't happen makes me wonder how many movies weren't made that were just as good. In our sad world of user surveys, political motivations, advertisement, big budgets, and religious agendas, it is amazing any good movies get made at all. But they cannot take Scarface away. It was made and will exist on the shelves of millions for many years to come.
There is a key moment in Scarface where Tony is having dinner with his junky wife and his second-in-command. It dawns on him that the top of his game is not where he wants to be. He has a bag for a belly and a junky wife. He's surrounded by rich mummies who need him to point their fingers at and say "there is the bad guy". Perhaps this is why he throws everything away, shooting the hit man of his supplier and ending up in a gun fight that packs all of the Wild Bunch into about ten minutes. Rather than die as his former boss did, Montana goes out at the top of his game, high on coke and tearing his own house apart with an M-16 while swarms of cockroach-like soldiers pour in. The moment he decides not to kill the wife and children of the target of the Colombian hit man is not a moment of morality. He has killed thousands of women and kids in his business. It is a decision of self destruction. When the choice of life or death arrives, he chooses death.
There is a new release of Scarface on DVD. It is a two disc set including a 2.35 to 1 16x9 enhanced picture and a Dolby Digital 5.1 soundtrack. There is a DTS track as well but for a 20 year old movie, there is no difference between the two audio tracks. The second disc includes packs of making-of and re-interview specials. There is no directors commentary. If you already own a copy of Scarface on DVD, don't bother with this one. If you do not own a copy, pick this one up.
Scarface is one of the best movies ever made. It is hard core, bloody, rough edged, and has the word "fuck" in it over 189 times. It isn't for your grandmother, but for a lover of the genre, it is along side Pulp Fiction. Don't miss it.