Narc
I realized that night that being a cop had nothing to do with procedure and had everything to do with right and wrong.
A review by Mike Shea Movie Rating: ( * * * * * ) DVD Rating: ( * * * * · )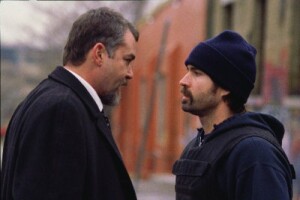 The worst thing about Narc is the fact that there are a thousand other movies like it that won't get made so that we can see Training Day should have been. In the first ten minute of Narc there is more emotional power than in ten Hollywood blockbusters. Narc is one of the best movies of the year.
Narc could be mistakenly marked as a buddy-cop-on-the-edge stereotype until you see the power of the story and the intensity of the characters. Within the first ten minutes, you know Narc isn't going to be holding anything back. There isn't a black and white line that our main characters will or won't cross. The writing and direction is excellent.. The dialog is very well written and every line is spoken perfectly. Dan Leis, an actor I have not heard about, is powerful on many levels whether it is with his wife, with a review board, or with a crack addict with a Mac 10.
The buddy-cop stereotype is more of a disadvantage when describing the film than an attack on the film itself. There is no similarity between Narc and Bad Boys 2 except they are both movies and they both have cops in them. The power and violence, in word and in action, is another drawback for some but not for me. The less restrained the movie is the better. The ending is a little ambiguous but when you consider the typical roof top fist fight endings of movies like Training Day, Narc is very refreshing.
The DVD for Narc is very well done. It is a two disc set with numerous making-of features and a directors commentary that gives you a great view of the realistic street-smart direction of Joe Carnahan. The movie has a 1.85 to 1 16x9 enhanced picture and a Dolby Digital 5.1 soundtrack. The only thing it is missing is a DTS track.
When you hear how little money a movie like Narc had and how little interest the producers had in the movie, you realize just how many movies like this one don't get made. For every billion dollar budget Godfather. It was amazing how close the greatest movie of all time came to never getting made. Most of our best movies were long-shots that can never be repeated. Narc isn't one of the best, but it was blind luck that we got to see it at all. I am glad we did.