Punch Drunk Love
I didn't ask for a shrink - that must've been somebody else. Also, that pudding isn't mine. Also, I'm wearing this suit today because I had a very important meeting this morning and I don't have a crying problem.
A review by Mike Shea Movie Rating: ( * * * · · ) DVD Rating: ( * * * * * )
Buy Punch Drunk Love from Amazon.com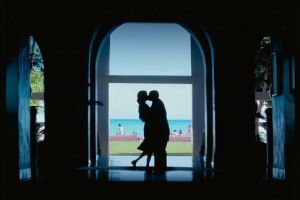 I'm not a fan of Adam Sandler. I'm also not a fan of the word "quirky". I do, however, often love movies that are horribly marked with the word "quirky" somewhere in the description or during a review. Royal Tenenbaums are all referred to as "quirky" and it drives me nuts. The word is insulting, demeaning, and misrepresents these films. "Unique" is perhaps a better word, but still does not give the detail needed to define movies that are best not defined.
So where does this leave us with Punch Drunk Love? It's a good movie. I often wasn't sure whether to laugh or be concerned for the well being of our hero and his love interest and perhaps that was the point. Typical Adam Sandler fans may try to laugh at his behavior, but they're missing the point and will probably walk out disappointed. There are some wonderful acting jobs here including Philip Seymore Hoffman, my new favorite unknown actor, who shows once again that his range and abilities are far greater than most big-named superstars.
The direction is, um, unique. Boogie Nights, ties our vision of the story closely to the insanity of our main character's world. We see things often saturated or blurry at the edges. Strange tunes fill his head, the kind of tunes you wake up with and spend your entire morning shower trying to stop humming. Probably the strongest of these is "He Needs Me", a song I think I remember from the movie Popeye with Robin Williams. It's a song that doesn't ever seem to end, and even writing the name has restarted it in my head like a neighbors lawn mower on a Sunday morning.
The DVD of Punch Drunk Love is very good. It includes a DTS and Dolby Digital 5.1 soundtrack, a directors commentary, and a second disc full of extra features. If you fall in love with the movie, something that may be possible for some but not I, you will want to pick it up.
I think I liked Punch Drunk Love, but I'm not sure. It didn't delight me as much as Boogie Nights, but neither did Magnolia. It is a good movie, but not one for the mainstream "Pirates of the Caribbean" crowd.