25th Hour
Somebody's lying.
A review by Mike Shea Movie Rating: ( * * * * * ) DVD Rating: ( * * * * · )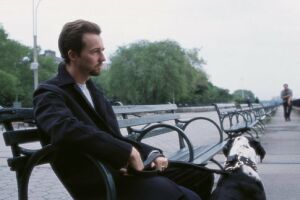 I was looking forward to Spike Lee's 25th Hour and I was not disappointed. 25th Hour is a movie about characters and relationships. It is a movie about lifelong friends and the choices they make growing up that leads to such different ends. It is a movie about saying goodbye. Cheesy lines aside, it is an excellent movie.
There is a Dogma 95 rule that says that movies shouldn't have style. Like the Strunk and White rule about letting prose come about on it's own, adding your own "style" to a movie is usually a mistake. If I had one bad thing to say about 25th Hour, it would be the obvious style. There are a lot of multiple cuts of the same shot thrown on top of one another. There are a lot of quick takes, cut frames, and a general rough style to the entire picture. Overall it works very well, it almost feels like a home movie, but obvious style is obvious style.
The true style Spike Lee adds to the film is in his characters. While I have been a huge Almost Famous. He is a top notch actor and 25th hour helps prove the point.
The story for 25th Hour is real and deep. There are no gun fights, no last minute action scenes, no unrealistic emotions or dialog. It is hardcore and rough but never makes you feel like an idiot. There are sub-plots, but they add a depth to the characters and to the overall story of the movie far more than the typical distractions from a streamlined central plot line. The subplots are the stories of old friends, problems that we share with the people we went to school with. They add a depth to the movie that we couldn't have gotten otherwise. If I could compare this to any other movie, it would be Stand By Me. Both movies do a wonderful job of portraying real friendships at different points of life.
The DVD for 25th Hour is one worth owning if you like the film or like film in general. It has a rough 2.35 to 1 16x9 enhanced picture that seems overexposed and overly sharpened. I am not convinced this wasn't on purpose. Spike Lee filmed the whole movie using digital high definition cameras instead of traditional film. I cannot say how much of the picture was effected by his choice in hardware as much as his own style for editing. The Dolby Digital 5.1 soundtrack is a lot fuller than you would expect for a dialog-driven movie.
One of the best stylistic elements is in the Russian Mafia club where our hero is spending his last night. At their key moments of strength and weakness, two characters float through the red-lit bar with record scratch hip hop alternating through the rear surround channels in time. It is very well done and makes excellent use of a solid multi-channel surround system with a good subwoofer.
There are many extras that are all worth going through. Two different director's commentaries and a few behind-the-scenes features make it a film nerds dream.
My favorite movies are the ones that remind me how much I love movies in general. 25th Hour reminds me how much I love film. It reminds me how good movies can be and shows me that there is a lot more out there than Bruce Almighty. If you're a fan, pick up the DVD. If you're not, rent it and find out.