The Transporter
He's a bastard, but he's still my father.
A review by Mike Shea Movie Rating: ( * * * · · ) DVD Rating: ( * * * * · )
Buy The Transporter from Amazon.com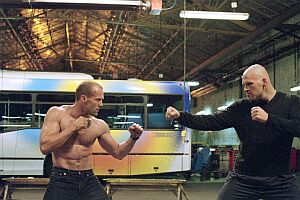 There is a misconception that the lead star in a kung fu movie needs to be asian. The Transporter is an example of the error in this philosophy, and the movie's press suffered for it. If you're expecting a blockbuster action powerhouse film, you're going to be disappointed. If you want a fun kung-fu / car chase movie with about as much of a deep story as Coyote Ugly, The Transporter may be you.
Francois Berleand, is the only other class actor this movie had among the army of evil goatee sporting thugs, but the story dumbed down his character a too much for it to be much worth.
The story in The Transporter is dumb enough to not get in the way of the action. There aren't many plot twists and no detectable subplot, something that would have killed this movie if it was directed by The Matrix.
The action is the core of this movie and it does not disappoint. The fight scenes in particular are top-notch. There's a lot of good choreography, obviously the result of The Matrix, or other top-end kung-fu movies, but it holds its own.
The DVD of The Transporter is a fine version of the film. It contains a 2.35 to 1 16x9 enhanced picture and a nice Dolby Digital 5.1 soundtrack that was a bit heavy in the musical bass but otherwise fine. There is a commentary track with Jason Statham and producer Steven Chasman. I cannot recommend the purchase of this movie, it is not a gem in the collection. If found on your shelf, women may scurry away in horror.
The Transporter is a good movie for a rainy Sunday. There are much better movies out there, ones that are probably more deserving of your attention than this. If you've seen all of The Great Movies quite a few times, it can't hurt to give it a shot.