Austin Powers in Goldmember
There are only two things I hate; those who are intolerant of other people's cultures........and the Dutch.
A review by Mike Shea Movie Rating: ( * * * · · ) DVD Rating: ( * * * * * )
Buy Austin Powers in Goldmember from Amazon.com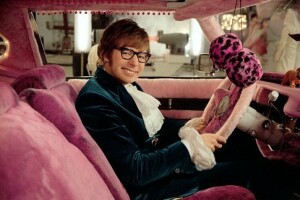 Austin Powers movies are always a little weird for me. I like them, but not at first. It takes me a couple of viewings, perhaps a run through a commentary, and then suddenly I get it. It isn't the subtlety of the movie, something it completely lacks. It is the way the director intended the viewer to view it. Whatever glasses I wear when I first watch an Austin Powers movie, even if I've seen the previous ones a few times, always seem to be the wrong ones. At the writing of this review I cannot say I was too impressed with Goldmember. It's funny, but not to the point of hospitalization. Perhaps the jokes will hit me later and I will like the movie more, but we'll have to see.
It was listening to the commentary track on the first Spy Who Shagged Me there is a setup of a coffee pot sitting right next to a beaker of Fat Bastard's feces. The idea that two such substances would even be in the same room is funny all on it's own. There are many such setups in Goldmember.
The weak point in Goldmember was the same is in "Spy Who Shagged Me", reuse of the same jokes. Just because a joke worked well in one of the previous two movies doesn't mean it should replace new material. Back is the shadow perspective gags, back are some of the verbal jokes between Scott and Dr. Evil. What is truly a crime is the amount of really funny scenes that are only available as out-takes and cut footage. Goldmember isn't a long movie, about 1:30, but 10 to 15 more minutes of some of the outtakes would have done a wonderful job of adding in the much needed new material.
The DVD of Goldmember is a new "Infinifilm" release by New Line. Both previous Austin Powers movies were reference level discs and this one is no different. It includes both Dolby Digital 5.1 EX and DTS-ES soundtracks and a 1.85 to 1 16x9 enhanced picture. There is an entertaining commentary with Mike Myers and Jay Roach, many deleted scenes and outtakes, and a few behind-the-scenes features. Infinifilm describes a function where one can watch the movie and at key moments select a background on the scene or some other related feature. I found this process to be cumbersome and ended up just watching the featurettes individually after a full viewing of the film. The Extended edition of Lord of the Rings had the best way of delivering extra content with the use of a "play all" function that allows a user to sit back and watch all the available extras in a long series. The key to good features is usability. Make DVD navigation easy and people will watch the extras. This DVD is a reference quality disc in visual, aural, and bonus feature content, but not in the material itself.
Austin Powers in Goldmember isn't a really bad movie, but the joke rehashes and the lack of any real new material didn't grab me as much as I thought it would. Each Austin Powers movie is an acquired taste, and I may find myself changing my opinion on this one as I have on the other two. If you are a fan of the last two, you probably won't be too disappointed with this one. If you own the previous two, this DVD fits well right next to them.