The Royal Tenenbaums
Tic-tac
A review by Mike Shea Movie Rating: ( * * * * * ) DVD Rating: ( * * * * * )
Buy The Royal Tenenbaums from Amazon.com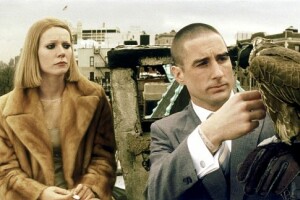 Calling Tenenbaums a comedy is a huge mistake. ID4 viewers can't understand a movie of this depth, so the advertisement world tries to sell it as a comedy. Regardless of the misrepresentation, Royal Tenenbaums is one of the best movies of the year.
Royal Tenenbaums is a drama that manages to find the perfect balance of acting, dialog, story, costumes, set, and music to paint a touching but strange film that cannot be classified into any particular genre. Twenty five minutes into the movie is one of the best character and relationship shots I have ever seen. A perfect blend of camera work, acting and music manage to display more emotion that you could write in a thousand words. The actors deliver obscure dialog without ever missing the emotion behind it. Each character manages to blend comedy with a real persona. By the end of the movie I cared for every main character as if I had spent far more than two hours with them. I didn't want the movie to end.
Criterion has a hard time selling itself as the elite film reference media with some excellent special editions coming out from other companies. Still, the DVD release of the Royal Tenenbaums shows that Criterion hasn't lost their edge. The DVD inludes a 2.40 to 1 16x9 enhanced transfer and both a Dolby Digital 5.1 and DTS soundtrack. There are enough extras to tell you everything you want to know about this movie including a pretty stale but still informative director's commentary with Anjelica Huston's birthday cake catastrophe.
It is hard to put into words exactly how good a movie this or why. Few directors now-a-days get the opportunity to make such a creative picture without getting smashed by the Hollywood advertising mallet. Surly the ad suits didn't know what to do with it, much like they didn't know what to do with Rushmore so they painted Rushmore as a buddy-revenge comedy and this one as a dysfunctional-family comedy. Neither attempt to box the movie does it justice, it is far better than any shelf label at Blockbuster could describe. The best movies cannot be defined and Royal Tenenbaums falls into that category perfectly. Do not expect a comedy and you should be pleasantly surprised.