Wonder Boys
That is a really big trunk. It can hold a suitcase, a tuba, a dead dog and a garment bag almost perfectly.
A review by Mike Shea Movie Rating: ( * * * * * ) DVD Rating: ( * * * * · )
Buy Wonder Boys from Amazon.com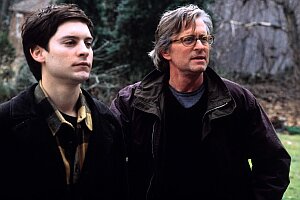 Wonder Boys is probably a definitive dark comedy. You won't find anything even remotely touching upon the sledgehammer like comedy of Being John Malkovich. Almost stuck in the same role so often that he becomes the generic actor and boom, suddenly he is a true actor. As mentioned earlier, it is the details that gives this movie so much flavor. The robe Grady wears, the little freestyle character development they perform at the bar for a stranger sitting across the way. Little knick knacks in his run down home. All of them add so much detail to the story that it comes out as a really full movie.
The DVD presentation was very good. It had a 16x9 enhanced transfer and a Dolby Digital 5.1 soundtrack that performed very well with the Academy Award winning music. There is a directors commentary, an isolated audio score, a featurette and a music video all included on the DVD, but no DTS track.
Wonder Boys is a movie you walk away from truly feeling good. It doesn't have the huge scope that a lot of blockbusters have, and it doesn't shock you to the level of Something About Mary, but it truly is a wonderful American movie. Don't miss it.