Heavy Metal 2000
How can you lose a six foot bitch and a talking rock?
A review by Mike Shea Movie Rating: ( * * · · · ) DVD Rating: ( * * * * · )
Buy Heavy Metal 2000 from Amazon.com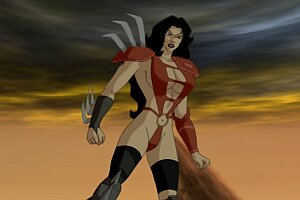 When I was a teenager I happened upon the original Julie Strain was done almost ahead of any other part of the picture, but her lines come out a bit forced. It is hard to do voices for animation I guess which is why Aeon Flux did so well.
The DVD has a 16x9 enhanced 1.85 to 1 picture with a Dolby Digital 5.1 soundtrack that does ok with the material it is given, which isn't much. There is a director's commentary and a special feature or two on the DVD as well.
This is another movie I really wish I liked. It has all the right pieces in the bowl, but never turns into anything but a tasteless mess.