High Fidelity
Should I bolt every time I get that feeling in my gut when I meet someone new? Well, I've been listening to my gut since I was 14 years old, and frankly speaking, I've come to the conclusion that my guts have shit for brains.
A review by Mike Shea Movie Rating: ( * * * * * ) DVD Rating: ( * * * * · )
Buy High Fidelity from Amazon.com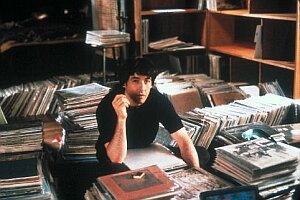 I like movies I have a lot in common with. All through college I worked at a software shop with some of the best friends I have. Even though we were all forced to wear starched white shirts and live under typical corporate bullshit, we were able to make the store our own simply by being out in the sticks of Indiana and knowing a hell of a lot about software. We were only being paid for about six to nine hours of work but we were there almost three to four times that bullshitting with customers, making fun of the regulars and screaming about Sega CD being a $600 piece of crap. I also had girlfriends in college who gave me the mental equivalent of being anally violated with a streetsweeper. Because of this, I found a lot in High Fidelity I could relate to. Tim Robbins at the 1:10 minute mark) humor to really fill the movie out. Other little surprises like an in-mind meeting of Cusack and Bruce "The Boss" Springstein help add the proper flavor (God I sound like a snob). The Chicago backdrop also made me miss a city I haven't cared about in five years. The DVD has a very transparent Dolby Digital 5.1 soundtrack as well as a 16x9 enhanced 1.85 to 1 picture. Both do very well in being a clear window to the movie itself. I wasn't blown out of my chair, but I wasn't up on a latter trying to blow canned-fucking-air to clean the dust off of my projector. This movie is probably another example of how a simple story line, good actors and a good script can paint an entertaining tale that doesn't have to be an Oscar winner.